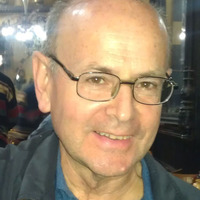 Docteur ès lettres persanes - Institut Dominicain d'Études Orientales (IDEO), Le Caire.
Mail address
Affiliated University - Country

Institut dominicain d'études orientales (IDEO), Le Caire - Egypt
Faculty Rank
Academic degrees

Docteur ès lettres persanes
Research fields
Research topics

La composition du texte du Coran, selon les principes de la rhétorique sémitique
Publications / contributions

Articles dans MIDEO (le Caire), Annales islamique de l'IFAO (le Caire), Bulletin de l'Institut Français d'Archéologie Orientale (le Caire), Luqmân (Téhéran), Oasis (Venise), JQS (Journal of Qur'anic Studies (Londres).
Le Festin. Une lecture de la sourate al-Mâ'ida, Lethielleux, Paris, 2007. Trad. anglaise The Banquet, 2009.
La composition du Coran. Nazm-al-Qur'ân, Gabalda, Pendé, 2012, trad. anglaise The composition of the Qur'an, 2015.
Une apocalypse coranique, Gabalda, Pendé, 2014.
Avec Geneviève Gobillot : Le Coran, Idées reçues, Le Cavalier bleu, Paris, 2007.
Avec Christophe Balaÿ : Aux sources de la nouvelle persane, Institut Français d'Iranologie, Téhéran, 1983.
« Une analyse rhétorique du début et de la fin du Coran ». Actes du Symposium international « al-Kitâb » (29 mai – 1er juin 2002) (Collection « Acta Orientalia Belgica ») (pp. 233- 272). Louvain-la-Neuve, Leuven. (2004)
« La rhétorique sémitique dans le Coran et dans quelques textes pharaoniques » . Roland Meynet – Jacek Oniszczuk, ed., Retorica biblica e semitica 1. Atti del primo convegno RBS, ReBib 12, EDB, Bologna 2009, p. 171-190.
« L'analyse rhétorique face à la critique historique de J. Wansbrough et de G. Lüling. L'exemple de la sourate 96 », in The Coming of the Comforter: When, where, and to whom? Studies on the Rise of Islam and various other Topics in Memory of John Wansbrough, C.A. Segovia et B. Lourié, ed, Piscataway 2012, p. 371-398.
« La question de l'abrogation dans son contexte rhétorique. (Une analyse des versets 2, 87-121) » Le Coran, Nouvelles approches, Azaiez Mehdi (éd.), Mervin Sabrina (collab.), Paris, CNRS Editions, 2013.
« L'ordre des sourates, dans le Coran, répond à la logique de la rhétorique sémitique », in R. MEYNET – J. ONISZCZUK, ed., Retorica Biblica e Semitica 3. Atti del terzo convegno RBS, ReBib 20, EDB, Bologna 2013, 255-269.
Articles