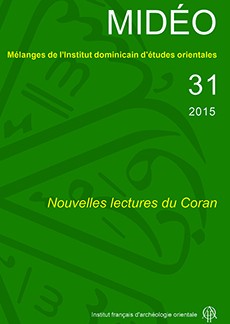 Nouvelles lectures du Coran
Michel Cuypers has written an article in which he responds to one of the critics of the rhetorical analysis applied to the Qur'an. El-Sayed Amin, professor at al-Azhar, offers an exegetical review regarding violence in the Qur'an. Jean-Louis Déclais presents a translation of the Surat al-Aʿrāf and shows the existence of midrashic processes. Mohammad-Ali Amir-Moezzi reports on the educational contribution made by imams on Surat al-Qadr. Geneviève Gobillot, following the inductive method of reading the Qur'an, addresses the issue of history and sacred geography in the Qur'an, using the example of Sodom. Finally, Mehdi Azaiez provides an analysis of the presence of a decisive rhetorical figure in the Qur'an, that of its addressee. Moreover, apart from the theme, Philippe Vallat has written a key article on Abu Bakr al-Rāzī.
For more information: link
Michel Cuypers signe un article où il répond à un des critiques de l'analyse rhétorique appliquée au Coran. El-Sayed Amin, enseignant à al-Azhar, propose une mise au point exégétique sur la question de la violence dans le Coran. Jean-Louis Déclais présente une traduction de la sourate al-Aʿrāf et montre l'existence de procédés midrashiques. Mohammad-Ali Amir-Moezzi rend compte de l'apport de l'enseignement des imams à propos de la sourate al-Qadr. Geneviève Gobillot, en suivant la méthode inductive de lecture du Coran, traite de la question de l'histoire et de la géographie sacrée dans le Coran à partir de l'exemple de Sodome. Enfin, Mehdi Azaiez propose une analyse de la présence d'une figure rhétorique décisive dans le Coran, celle de l'allocutaire coranique. Par ailleurs, en dehors de la thématique, Philippe Vallat signe un article important sur Abū Bakr al-Rāzī.
Pour plus d'informations : lien vers editeur