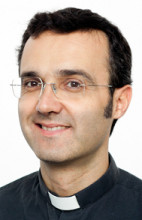 Doctor in theology and professor of social ethics - Pontificia Università Gregoriana, Roma.
Adresse mail
Université et pays de rattachement

Pontificia Università Gregoriana, Roma - Italy
Fonction actuelle

Professore Incaricato Associato
Titres académiques

BA/MA in Law '92 and Business '93, from ICADE, Madrid
Doctor in Theology (STD) '07 from Weston Jesuit School of Theology
Domaines d'enseignement
Domaine de recherche

Economics and ethics
Religious freedom
History of moral theology
Thématique de recherche

Religious freedom and peace building 50 years after Dignitatis Humanae
Social Discernment
Publications / contributions

"Partaking in Foreignness as Consolation. Centro Astalli's Work with Refugees in Rome", in Catholic Theological Ethics on the Migrations of Peoples: Living with(out) Borders, a cura di Agnes Brazal and M. T. Davila, . Maryknoll, New York, Orbis Books 2015. (Forthcoming).
"Introducción y notas" in Juan Alfonso de Polanco, Breve Directorio de Confesores, Colección Manresa, Mensajero-Sal Terrae- Universidad Pontificia Comillas, Santander-Bilbao-Madrid 2015. (Forthcoming).
"Evangelizzazione ed economia" in Evangelii Gaudium: un testo che ci interroga, GBPress, Roma 2014.
"Introduzione" in Francisco Suarez, Tractatus de legibus ac Deo legislatore in decem libros distributus. Liber tertius a cura di Ottavio De Bertolis e Franco Todescan Padova : CEDAM 2013.
"Moral Theology and History: A Peculiar Relationship" in Catholic Theological Ethics: Past, Present and Future. The Trento Conference, ed. James F. Keenan, Orbis Books, Maryknoll, N.Y. 2011.
Luis de Molina's De Iustitia et Iure. Justice as Virtue in an Economic Context, Studies in the History of the Christian Traditions 152, Brill, Leyden 2011.
"El asunto tras del asunto: La Dignitatis Humanae y la reformulación de doctrina", Gregorianum, (Forthcoming).
"Moral theology at the dawn of Vatican II. A brief presentation of Arregui-Zalba's Compendio de teología moral", Asian Horizons, March 2015.
"¿Es posible una paz justa en Siria?" in Sal Terrae (101), nov. 2013.
"Populorum Progressio" in Moral Social en tiempos de crisis, COMPAS, 2013.
"Religión y política en EEUU" in Fomento Social, nº 264, oct.-dic 2011.
"El discernimiento de la realidad social en el hoy de nuestra historia", Vida Religosa, nº 3, marzo 2011.
"Matteo Liberatore y la Rerum Novarum" in Gregorianum, 91/4, 2010.
Thématique de recherche