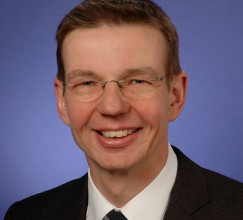 Professeur en théologie dogmatique - Philosophisch-Theologische Hochschule Sankt Georgen.
Mail address
Affiliated University - Country

Philosophisch-Theologische Hochschule Sankt Georgen, Frankfurt am Main - Germany
Faculty Rank

Professeur en théologie dogmatique
Vice-recteur
Academic degrees

Dipl.-theol.
Dr. theol.
Dr. theol. habil.
Teaching fields

Théologie dogmatique : christologie, théologie de la création et anthropologie chrétienne, théologie des sacrements
Research fields

Théologie de la création
Dialogue interreligieux monothéiste
Relations religion – politique – violence
La foi Chrétienne et l'histoire humaine
Research topics

Temps et éternité
Liberté de l'homme et souveraineté de Dieu (prédestination etc.)
Publications / contributions

Voir :

www.sankt-georgen.de/lehrende/ansorge

Derniers articles sur le thème du dialogue islamo-chrétien :

Mercy as a Theological Problem, in: Valentino Cottini / Felix Körner / Diego R. Sarrió Cucarella (Hrsg.), Rahma. Muslim and Christian Studies in Mercy (Studi arabo-islamici del PISAI 22), Roma 2018, 165-177.
Is it Essentialism to Claim that Some Religions Foster Violence – and Some Do Not?, in: Heydar Shadi (Hrsg.), Islamic Peace Ethics. Legitimate and illegitimate Violence in Contemporary Islamic Thought (Studien zur Friedensethik / Studies on Peace Ethics 57), Nomos-Verlag: Wiesbaden 2017, 37-54.
Differenz, Alterität und Pluralität. Anmerkungen zum Dialog zwischen Christen und Muslimen, in: Bernd Elmar Koziel (Hrsg.), Apologie und Glaubensrechenschaft zwischen Konfrontation und Korrelation. Überlegungen zur Struktur gegenwärtiger Fundamentaltheologie, Würzburg: Echter-Verlag 2017, 139-167.
Gewalt im Namen des Christentums?, in: Stimmen der Zeit 235 (2017), 39-48 [Litauisch: Smurtas krikščionybės vardu?, in: Bažnyčios žinias 27 (2017), Heft 3, 30-34].
Mercy as a Theological Problem, in: Islamochristiana 42 (2016), 57-69.
Christentum – Islam – Aufklärung: ein vielschichtiges Verhältnis, in: Siegfried Karl / Hans-Georg Burger (Hrsg.), Religion(en) im 21. Jahrhundert. Zwischen Tradition und Zukunft, Gießen 2016, 99-112.
Europas pluralistische Identität. Eine historische und begriffsgeschichtliche Einführung, in: Dirk Ansorge (Hrsg.), Pluralistische Identität. Beobachtungen zu Herkunft und Zukunft Europas, Darmstadt: Wissenschaftliche Buchgesellschaft 2016, 7-23.
Friedensethik im islamischen Kontext, in: Ines-Jacqueline Werkner / Klaus Ebeling (Hrsg.), Handbuch Friedensethik, Wiesbaden: Springer VS, 2017, 583-604.
Zwischen Gewalt und Frieden. Die Ambivalenz der Religionen in politischen Konflikten, in: Cibedo-Beiträge zum Gespräch zwischen Christen und Muslimen, Heft 2/2016 (Münster: Aschendorff-Verlag), 42-50.

Monographie :

Kleine Geschichte der christlichen Theologie. Epochen – Denker – Weichenstellungen, Pustet-Verlag: Regensburg 2017.
Gerechtigkeit und Barmherzigkeit Gottes. Die Dramatik von Vergebung und Versöhnung in bibeltheologischer, theologiegeschichtlicher und philosophiegeschichtlicher Perspektive, Herder-Verlag: Freiburg – Basel – Wien 2009.
Research topic
Videos