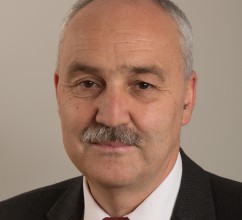 Dean of the school of catholic theology and professor of social ethics - Universität Innsbruck.
Adresse mail
Université et pays de rattachement

Universität Innsbruck - Austria
Fonction actuelle

Dean of the School of Catholic Theology
Professor of Catholic Social Teaching
Titres académiques
Domaines d'enseignement

Social ethics
Religio-political science
Ethics in computer science
Domaine de recherche

Religio-political science
Social ethics
Thématique de recherche

Violence and religion
Terrorism
Capitalism and religion
Carl Schmitt
Simone Weil
René Girard and mimetic theory
Publications / contributions

Girard René, and Wolfgang Palaver. Gewalt und Religion. Ursache oder Wirkung? Translated by Heide Lipecky and Andreas Leopold Hofbauer. Berlin: Matthes & Seitz, 2010.
Hetzel Andreas, Wolfgang Palaver, and Dietmar Regensburger. « The Reception of the Mimetic Theory in the German-Speaking World. » Contagion: Journal of Violence, Mimesis, and Culture 20 (2013): 25-76.
Palaver Wolfgang. « Religion und Gewalt: René Girards und Charles Taylors komplementäre Beiträge zu einer zeitgemäßen Theorie. » In Kommunitarismus und Religion, edited by Michael Kühnlein, 319-328. Berlin: Akademie Verlag, 2010.
« Religion und Gewalt: Walter Burkert und René Girard im Vergleich. » In Gewalt und Opfer. Im Dialog mit Walter Burkert, edited by Anton Bierl and Wolfgang Braungart, 247-266. Berlin: Walter de Gruyter, 2010.
« 'Creative Renunciation': The Spiritual Heart of René Girard's Deceit, Desire, and the Novel. » Religion & Literature 43, no. 3 (2011): 143-150.
« Entsetzen – Terrorismus und Widerstand. » Zeitschrift für Religion und Gesellschaft 1, no. 2 (2011): 129-154.
« Europe and Enmity: How Christianity Can Contribute to a Positive Identity. » In Violence, Desire, and the Sacred : Girard's Mimetic Theory Across the Disciplines, edited by Scott Cowdell, Chris Fleming and Joel Hodge, 171-181. New York: Continuum, 2012.
« Simone Weil (1909–1943). » In Außenseiter der Philosophie, edited by Helmut Reinalter and Andreas Oberprantacher, 405-422. Würzburg: Königshausen & Neumann, 2012.
« Mimetic Theories of Religion and Violence. » In The Oxford Handbook of Religion and Violence, edited by Mark Juergensmeyer, Margo Kitts and Michael K. Jerryson, 533-553. New York: Oxford University Press, 2013.
« Populismus – Gefahr oder hilfreiches Korrektiv für die gegenwärtige Demokratie? » Jahrbuch für Christliche Sozialwissenschaften 54 (2013): 131-154.
René Girard's Mimetic Theory. Translated by Gabriel Borrud Studies in violence, mimesis, and culture. East Lansing: Michigan State University Press, 2013.
« Sacrificial Cults as 'the Mysterious Centre of Every Religion': A Girardian Assessment of Aby Warburg's Theory of Religion. » In Sacrifice and Modern Thought, edited by Johannes Zachhuber and Julia Meszaros, 83-99. Oxford: Oxford University Press, 2013.
« Terrorism versus Nonviolent Resistance. » Journal of Religion and Violence 1, no. 2 (2013): 192-215.
« Gewalt und Wechselseitigkeit. Über die Ursache zwischenmenschlicher Gewalt, Gewalteskalation und Wege aus der Gewalt. » In Gesichter der Gewalt. Beiträge aus phänomenologischer Sicht, edited by Michael Staudigl, 315-332. Paderborn: Wilhelm Fink, 2014.
« Vox populi, vox Dei: The Pantheistic Temptation of Democracy. » In René Girard and Creative Mimesis, edited by Vern Neufeld Redekop and Thomas Ryba, 143-159. Lanham, Md.: Lexington Books, 2014.
« Zwei religiöse Quellen des Vorpolitischen: Eine kritische Auseinandersetzung mit Carl Schmitt. » In Das Politische und das Vorpolitische: Über die Wertgrundlagen der Demokratie, edited by Michael Kühnlein, 323-337. Baden-Baden: Nomos, 2014.
« From Closed Societies to the Open Society: Parochial Altruism and Christian Universalism. » In Can We Survive Our Origins?: Readings in Rene Girard's Theory of Violence and the Sacred, edited by Pierpaolo Antonello and Paul Gifford, 97-114. East Lansing, MI: Michigan State University Press, 2015.
Palaver Wolfgang, Andreas Oberprantacher, and Dietmar Regensburger, eds. Politische Philosophie versus Politische Theologie? Die Frage der Gewalt im Spannungsfeld von Politik und Religion, Edition Weltordnung – Religion – Gewalt. Innsbruck: IUP – Innsbruck University Press, 2011.
Fiche
Thématique de recherche