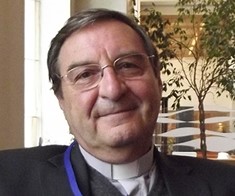 Professor at the Pontificio Istituto di Studi Arabi e d'Islamistica (PISAI), professor of Bible and Koran - Roma Editor of the Journal "Islamochristiana"
Mail address
Affiliated University - Country

Pontificio Istituto di Studi Arabi e d'Islamistica (PISAI), Roma - Italy
Faculty Rank

Professor at PISAI
Editor of the journal "Islamochristiana"
Academic degrees

Dottorato in teologia con specializzazione biblica (Studium Biblicum Franciscanum – Gerusalemme)
Licenza in Studi Arabi e Islamistica (PISAI)
Teaching fields

Bibbia e Corano
Introduzione all'islam
Research fields
Publications / contributions

"Ebraismo, cristianesimo e islam: convergenze nel dire Dio", Servitium, III 219 (2015) 15-35 (Parlare di Dio insieme).
"Affidarsi all'Uno. Spiritualità nell'Islam", in Donatella Scaiola (ed.), Percorsi di spiritualità. La missione nel mondo di oggi, Urbaniana University Press, Roma 2014, 21-34.
"Libertà religiosa e islam", in Rivista di Teologia Morale 184/4 (2014) 527-532.
"Elementi di fondazione della morale musulmana", Studia Moralia 49/1 (2011) 173-195.
"Fundamentální principiy muslimské morálky", in Karel Sládek a kol. (ed.), Křesťanství a islám v liberálním státu. Výzvy tradice a současnosti, Pavel Mervart, Červený Kostelec 2011, 217-235.
"Uno sguardo sull'islam", in D. Mariani (ed.), Popoli e religioni: quale dialogo è possibile?, Lombar Key, Bologna 2010, 21-30.
"Parola e tradizione nell'Islam", Studi Ecumenici 27 (2009) 193-212.
"Le menzogne di Abramo", Islamochristiana 35 (2009) 61-84.
"Ripartire da 'una parola comune'?", Studi Ecumenici 26/2 (2008) 281-300.
"Il cappellano del carcere e i carcerati musulmani", La pastorale del penitenziario 12 (2008) 456-461 (+ 462-467 discussione).
"Bible a Korán", Teologické texty 19 (2008) 176-181.
"Un sovversivo e un profeta. Il pensiero degli Ebrei e dell'Islam", Quaderni ta biblia 8 (2007) 75-91.
« Foi et herméneutique en guise d'introduction », Islamochristiana 33 (2007) 15-22.
"Io porrò inimicizia…" (Gen 3,15): carica profetica di un versetto difficile", in G.A. Faccioli (ed.), La Donna vestita di sole e il drago rosso, Messaggero, Padova 2007, 11-33.
"La casa della Sapienza. Luogo di incontro delle religioni? I. Comprendere", Studi Ecumenici, 23 (2005) 89-100.
"La casa della Sapienza. Luogo di incontro delle religioni? II. Creazione", Studi Ecumenici, 23 (2005) 295-306.
"La casa della Sapienza. Luogo di incontro delle religioni? III. Ordine creaturale", Studi Ecumenici, 23 (2005) 613-623.
"La risurrezione dei morti nell'islam", Vita Minorum 76/3 (2005) 128-148.
"Icone di ospitalità", Evangelizzare 25/4 (2005) 219-224. Curato tutto il dossier sul tema L'ospite nelle religioni del Libro.
"I monti nel Corano", in L. Cerutti – F. Mattioli (ed.), Sacri Monti Sacri, Gravellona Toce 2004, 197-213.
"Il Dio della misericordia nella prospettiva anticotestamentaria", in P. Di Domenico – E. Peretto (ed.), Maria Madre di Misericordia, Messaggero, Padova 2003, 37-58.
"La spiritualità dell'islam", Vita Minorum 74/2-3 (2003) 57-69.
"Spiritualità e prassi nel tempo della sofferenza. L'immigrato musulmano destinatario e protagonista di cure mediche e religiose", L'Ancora nell'Unità di Salute 18/1 (2003) 43-58; ripubblicato in AA.VV., La sofferenza e la risposta nelle tre grandi religioni monoteiste: Ebraismo, Cristianesimo e Islam, Centro Federico Peirone, Ed. Mille Libri, Torino 2003, 77-104.
"I tanti colori dell'islam", Evangelizzare 32/4 (2003) 218-222.
"Islam: dottrina e spiritualità", Dossier di Redemptoris Missio, 19/1 (gennaio-giugno 2003) 5-33.
"Viaggiare nel Corano", in G. Baldissone – M. Piccat (ed), Carte di viaggi e viaggi di carta. L'Africa, Gerusalemme e l'aldilà, Interlinea, Novara 2002, 97-108.
"Il fondamentalismo islamico", Esperienza e Teologia 15 (2002) 73-93.
"Il Dio della morte e della vita nell'islam", Asia News – Dossier 6 (giugno/luglio) 2002, 29-37.
"L'islam di fronte alla sofferenza e alla morte", Vita Nostra 52/2 (2001) 190-203; ripubblicato in Anime e Corpi 214 (2002) 195-218; ripreso in un quaderno del Centro per la Pastorale Sanitaria della Diocesi di Roma.
"I cristiani leggono il Corano. Alcune valutazioni bibliche", in M. Borrmans – P. Branca – V. Cottini – M.P. Pedani Fabris – C.M. Guzzetti – V. Poggi – G. Rizzardi – G. Zatti, Il Corano: traduzioni, traduttori e lettori in Italia, IPL, Milano 2000, 231-255.
"Dialogo interreligioso. Quale dialogo con l'islam?", in Verona in missione nel terzo millennio. Atti del primo convegno missionario diocesano, Verona 2000, 111-116.
"Cor 53,1-18. Ovvero: l'autocoscienza profetica", in M. Borrmans – P. Branca – V. Cottini – M. Lagarde – A. T. Negri – A. Ventura, Conoscere il Corano. Introduzione e letture scelte del Libro sacro dell'Islam, Ed. Mille Libri, Centro F. Peirone, Torino 1999, 103-127.
"Il dialogo islamo-cristiano", in E. Falavegna – G. Girardi (ed.), In dialogo con l'Altro. Fede cristiana, alterità e dialogo, Il Segno, Verona 1998, 133-140.
Research topic
Articles
Videos
Publications

Mercy, Islamochristiana (42), 2016

Islamochristiana 44Rome, PISAI, 2019, 423, p.