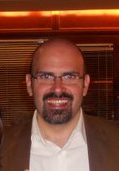 Professor of Islamic Studies - Università Cattolica del Sacro Cuore, Milano.
Adresse mail
Université et pays de rattachement

Università Cattolica del Sacro Cuore – Milano - Italy
Fonction actuelle
Titres académiques

Ph.D, Thesis « Prophetic words, God's words. An analysis of the stories and speeches of the prophets in the Qur'an »
Domaines d'enseignement
Domaine de recherche

Islamic Studies
Interreligious dialogue
Thématique de recherche
Publications / contributions

(with Branca P.) Destini incorciati. Europa e islam [Crossed Destinies: Europe and Islam], Fondazione Achille e Giulia Boroli, Milano, 2007.
Islam in the Italian Multicultural Society, in «Encounter» (Pisai) n. 334-335, Roma, (aprile-maggio), 2008.
Comparing the Intertextual Importance of John the Baptist for Islamic and Christian Traditions, in «Encounter» (Pisai) n. 363-364, Roma, (marzo-aprile), 2011.
La sfida dell'incontro. Cristiani e musulmani in dialogo [The challenge of encounter. Christians and Muslims in dialogue], in Rizzi M. (a cura di), Nessuno è…20 anni di pastorale migratoria a Bergamo, il melangolo, Genova, 2015, pp. 159-169.
Cuciniello A., Cristianesimo e islam. Annuncio e dialogo [Christianity and islam. Announcement and Dialogue], in AA.VV., Primo annuncio. Tra afonia e proselitismo, Pharus Editore Librario, Livorno, 2015, pp. 105-120.
Prophetic Words, God's Words. An Analysis of the Stories and Speeches of the Prophets in the Qur'ān, at International Workshop "Approaches to the Qur'an", Zentrum für Islamische Theologie Münster (ZIT), 05.-06.11.2018.
Fiche
Thématique de recherche
Articles
Publications

Chiesa e islam in Italia, 2019

(Saint) François et les musulmansTurin, Ananke Lab, 2019